PARK 5 | LALIBELA GAME RESERVE
July 02, 2017 |
BY

Nikki Bolton
Lalibela Game Reserve is located in the Eastern Cape, close to Port Elizabeth and Addo, which means it is not only malaria free, but spans 5 ecosystems, resulting in a breath-taking diversity of flora and fauna.

Lalibela consists of 9,000 hectares (approximately 22,000 acres) and is home to the Big 5 (lion, elephant, rhino, buffalo & leopard) as well as other predators like cheetah, hyena, jackal & lynx.

We are blessed with vast African plains and this is why we have multitudes of zebra, giraffe, warthog, impala, wildebeest, blesbuck and various other antelope species.

Only an hour away from Port Elizabeth and Addo, Lalibela is unique in the Eastern Cape in that we have no public roads running through our property.

This means that only Lalibela guests have access to the wildlife area and you will never encounter a member of public whilst on safari as there are no public roads on Lalibela.

In addition, all of the animals at Lalibela, including the predators, are free-roaming throughout the entire game reserve - we do not have different areas for different species.

The 3 main aspects of any African safari are the game-viewing, the accommodation and the food - at Lalibela we take special care to ensure that heartfelt service combines with these three "ingredients" to make your Big 5 African safari experience a memorable one.


Lalibela has embarked on an aggressive project to rid the reserve of all alien invader plant and tree species. Besides the conservation value, this initiative will also create much needed jobs for local communities, both directly and indirectly.
"Lalibela Game Reserve is happy to support ANY initiative that contributes
to the conservation and education of rhinos in South Africa
and we applaud what the OLLI Frontier Rhino Ride is doing."


On Day 2 Wayne and his son Daniel cycled a shorter route to Lalibela Game Reserve. After a warm and hearty lunch and settling in to our very comfortable sunny suite we enjoyed a very informative game drive with our enthusiastic guide, Woody, in the good company of Vernon Wait. Sunset in the park was quite beautiful with a lion siting just as we headed back to camp.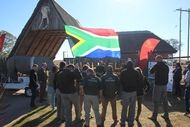 Leave a comment
Be the first person to comment.
Partners of the 'celebrating Women in conservation' campaign
environmental crime hotline 0800 205 005 or the SAPS number 10111
Report any suspicious activities around wildlife!
Using this site means you accept its
terms
| Copyright © 2022 One Land - Love It, South Africa
| website by