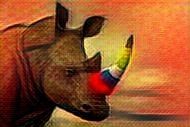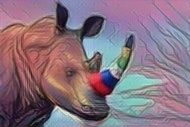 #OLLI creative challenge for conservation
What can you do to move from caring to doing in this season?
Join our creative challenge and draw or paint a picture, write a poem or song, share a photograph,
create a work of art that shows you care about OUR Rhino!
You can make a difference!
Post your contribution on social media and
tag One Land Love It on Instagram or Facebook.
There is NO age limit.
Together let's flood social media creating awareness far and wide.
Challenge others to join in...
We can't wait to see what amazing art you create!
My name is Bronwyn Botha and I am a professional conservationist currently working for South African National Parks in the Eastern Cape and the threat to the Rhino is no stranger to me. All through my career, I have held a deep sadness and anger towards the illegal wildlife trade in all forms and the Rhino is just the tip of the iceberg.

My art on the other hand is a personal passion I play around with on the sidelines and this project has been so much fun - to merge the two passions in my life.

This has been so much fun, but the reason behind it stays daunting and tragic and only by standing together will we ever stand a chance of saving our beloved animals and the habitats they, and we, rely on!
I am Ta-nika Ruddy, born and raised in Port Elizabeth. Growing up my family has always encouraged and taught me to have compassion for animals, knowing that they cannot speak for themselves when they are in need and it is up to us to make the effort of trying to understand and help them. Just recently I made a short visit to the Kragga Kamma Game Park where I had the pleasure of seeing one of their rhinos grazing quietly and contently and it struck me how these strong creatures bring beauty and a sense of peace to our world and it saddens me that some people do not know how to respect and appreciate the gift they give us just by existing alongside us. It inspired me to use my side hobby of wood burning to make this pyrography art piece, just to share a little bit of their beauty with others.

Ta-nika created these pieces in support of Olli and Sharon Jessop's Guiness World Record Run (102 consecutive half-marathons by a woman – which ended on the 1 January 2021). If you are interested in purchasing either of the pieces please email nikki@oneland.co.za.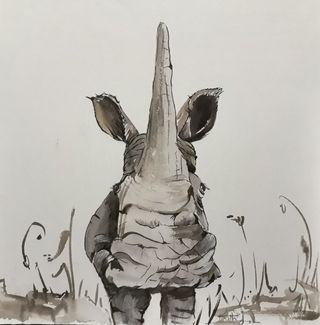 Kathy Snyman is part of the OLLI Family and a self taught, multi talented artist who dabbles in various media from toll art, ceramic painting, watercolour to pen and ink. She has lived in different parts of SA but mostly in Durban, KZN where she taught Bauernmalerei (a Germand folk art) for many years. Recently she moved to PE in the Eastern Cape and lives with her family painting as the mood grabs her. This piece was done for her son-in-law Wayne celebrating his 6000km cycle around SA for rhino conservation.
I am Nicole Sterley, originally from Durban but have lived in many places from Israel to San Francisco. I have been living in the UK since 1998 but have never forgotten my roots deep in Africa, something I don't think I will ever loose.

I have always loved art and over the years have practised many skills from painting, to sketching and pastel pet portraits, then on to cardmaking and now more recently I am working on an adult colouring book. When I was asked if I'd be interested in contributing a drawing for #OLLI, I felt it was a great opportunity to bring my roots back into play and do something towards helping the Rhinos of South Africa. I am really hoping to see many people colouring my drawing and helping to bring attention to awful situation that the Rhino's are facing.

If you'd like to follow my progress with my book, join me on my Facebook Group - 'Nicole Sterley's Art Group' or Instagram - NicSterley.

KAT WILKINSON
I am Kat Wilkinson, a creative mom who enjoys dabbling in all types of art, as well as graphic design. Growing up on a farm in the Karoo with many wildlife 'hansies' was the start of my love for nature and animals. During this lockdown I happened across the creative challenge for One Land Love It to bring attention to the conservation of our beautiful rhino. I decided to try for the first time my son's oil pastels he was given for his
2nd birthday. This was the result. It was great fun and I hope this project will spark more interest in the plight of the rhino.
nikki bolton
As a part of the OLLI Family I have been privileged to get footage not only of Wayne's expedition but also of rhino up close and personal. I am a very creative person and have got great pleasure from playing with images to create a little art out of real life. These are two images I particularly like, one of myself with a rhino calf... an encounter that stays with me... and the other of OLLI our lifesized rhino "who" was standing in the rain and appeared to be crying.
I am convinced that we all have untapped talents and resources and have creative capacity. When we apply ourselves and direct what we have in our hands towards our passion... we can make a difference!
COTSWOLD PRIMARY SCHOOL
Port Elizabeth / Eastern Cape
Cotswold is part of our
#JointCustody School Rhino Challenge
You can see more of their work and ethos on our Challenge page
This is awesome artwork and poetry was submitted by Grade 1 children during Lockdown
LAERSKOOL STULTING
Humansdorp / Eastern Cape
Grade 3 pupils sent through their gorgeous artwork ... love those happy and proud faces!
Partners of the 'celebrating Women in conservation' campaign
environmental crime hotline 0800 205 005 or the SAPS number 10111
Report any suspicious activities around wildlife!
Using this site means you accept its
terms
| Copyright © 2022 One Land - Love It, South Africa
| website by