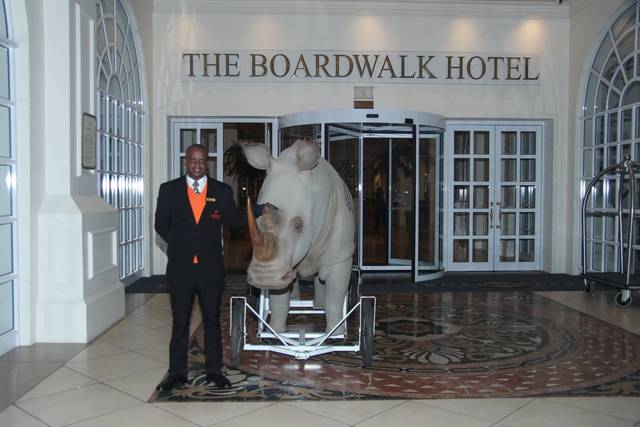 On the 28th June 2017 the Olli Team and partners gathered at Sun Boardwalk for the launch of the OLLI Frontier Rhino Ride. Gareth Burley of Kingsfisher FM was the host, Claire Venn the guest artist who also wrote the One Land Love It theme song. Our special guest for the evening was the Nelson Mandela Bay Executive Mayor Athol Trollip.
At the launch certain symbolic steps were followed - these would be repeated during the expedition...
The Scroll of Unity in Conservation
This was originally signed by the South African Minister of Tourism the Honourable Ms Tokozile Xasa and NMBT CEO Mandlekazi Skefile, and at the launch it was also signed by Mayor Trollip and representatives of Tourism and the Olli #JointCustody School Rhino Challenge.
Olli's Horn
A 3D printed horn covered in the colours of the South African flag was divided into rings each of which would be attached to Olli, our lifesized fibreglass rhino's horn at different milestones until completely covered by the end of the journey. This a symbolic representation of our commitment to work together in the spirit of our hasthag #JointCustody, to reclaim our natural heritage.
The first ring to be placed onto Olli's horn was done jointly by NMB Mayor Trollip, NMBT Marketing Manager Titus Chuene, a representative of East Cape Park and Tourism Agency and Wayne Bolton of One Land Love It.
The second ring was placed onto Olli's horn by Grey Junior School Headmaster Lyndsay Pearson, teachers and students representing our Olli #JointCustody School Rhino Challengeand a member of the OLLI Team, Melissa Farquhar, a student teacher.
At each park another ring would be placed until the horn was completely covered 2000kms later.
Messages of Unity in Conservation
These were prepared by Nelson Mandela Bay Mayor and NMBT and handed to Wayne who would then carry them to eThekweni and hand them over to Deputy Mayor Fawzia Peer and Durban Tourism Brand Manager Linda Mthembu. Once again in the spirit of #JointCustody.
The South African Flag
In both expeditions the SA flag has played a pivotal role. In the first expedition Martin Snyman, a significant member of the Olli Team presented the SA flag to Wayne. For the Olli Frontier Rhino Ride, One Land Love It's first and longest standing sponsor IT Design presented Wayne with this year's Expedition Flag. Riaan Miles handed this over at the Launch.
The Olli Team is extremely grateful to all the partners who supported this year's expedition and launch including those featured on our website and others whose logos can be found under Sponsors/Get Involved...
Partners of the 'celebrating Women in conservation' campaign
environmental crime hotline 0800 205 005 or the SAPS number 10111
Report any suspicious activities around wildlife!
Using this site means you accept its
terms
| Copyright © 2022 One Land - Love It, South Africa
| website by