PARK 3 | SHAMWARI
July 01, 2017 |
BY

Nikki Bolton
Shamwari Game Reserve is a conservation orientated, malaria free, 5-star safari holiday destination. Situated in the Eastern Cape of South Africa and home to vast herds of wildlife, birdlife and incredible ecological diversity, with 5 of South Africa's 7 biomes found here.

It was discovered that the Eastern Cape used to be one of the richest wildlife areas in Africa in terms of biodiversity. Our dream was to return the land to its once pristine condition. This vision included the preservation of the history, fauna and flora of the Eastern Cape. Over time Shamwari grew and established itself, and by the year 2000, the reserve was large enough and stocked sufficiently to support large predators. In October 2000, the first lions were brought back to the Eastern Cape and released at Shamwari to fulfill a dream.

Today, our 25,000 hectares of land comprises 6 separate 5-star lodges, an Explorer Camp, 3 different education and rehabilitation facilities and employs over 325 local staff. It has been restored to its rightful state with the stunning Eastern Cape flora and fauna of yesteryear, flourishing with free-roaming wildlife.

At Shamwari Game Reserve, we pride ourselves on presenting wildlife interaction that is sure to be the highlight of our guests' stay. Coupled with the African horizon and spectacular skies, we offer game drives through the reserve for an experience of a lifetime.

2017 just so happens to be a very special year for us as it is our 25th anniversary! On the 15th of October 1992 Shamwari Game Reserve was established! We are exceptionally proud of our accomplishments as an award-winning Eastern Cape reserve and a pioneer in environmental education.

Shamwari Game Reserve, and other private game reserves in the Eastern Cape work together in Rhino conservation and preservation. The Eastern Cape Private Nature Reserve Association, known as INDALO, represents private nature reserves/game reserves in the Eastern Cape which focus on non-consumptive wildlife and biodiversity based tourism. We have a great network of members that work to collectively keep our rhino safe. Although each reserve generally has their own anti-poaching units, there is an excellent communication network and common strategic approach. An experienced and highly competent team is in place to proactively deal with poaching and security.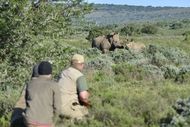 We have our Ian Player Rhino Centre, this offers guests an educational awakening
about the plight of a rapidly depleting species, and what we can do to help.
Our Anti-Poaching Unit are our unsung heroes that dedicate their lives to
protecting rhinos and keeping us safe.
We salute them!

"We pride ourselves and our actions in conserving a vanishing way of life.
The Rhino species is under threat and by creating awareness & educating
others of the dire situation our rhinos are facing, we can make a difference.
We wholeheartedly support the OLLI Frontier Rhino Ride &
are honoured to be a part of a great cause."
(Image above by Glen Meybergh of Imagio Productions)
From Addo Elephant National Park the Wayne and the support riders headed through Paterson and on to Shamwari Game Reserve where they were greeted by Shamwari staff including Claire Radloff, Morne Hamlyn and their Anti Poaching Unit. Morne (Field Guide) signed the Scroll of Unity in Conservation and attached the next ring onto Olli's horn. From Shamwari the cyclists headed to Amakhala which would be the final destination of day 1.
Leave a comment
Be the first person to comment.
Partners of the 'celebrating Women in conservation' campaign
environmental crime hotline 0800 205 005 or the SAPS number 10111
Report any suspicious activities around wildlife!
Using this site means you accept its
terms
| Copyright © 2022 One Land - Love It, South Africa
| website by