PARK 2 | ADDO ELEPHANT NATIONAL PARK
July 01, 2017 |
BY

Nikki Bolton
Now the third largest national park in South Africa, Addo Elephant National Park has expanded to conserve a wide range of biodiversity, landscapes, fauna and flora. Stretching from the semi-arid Karoo area in the north around Darlington Dam, over the rugged Zuurberg mountains, through the Sundays River Valley and south to the coast between Sundays River mouth and Bushman's river mouth, Addo covers about 180 000 hectares (444 700 acres) and includes the Bird and St Croix Island groups.

The original elephant section of the Park was proclaimed in 1931, when only eleven elephants remained in the area. Today this finely-tuned ecosystem is sanctuary to over 600 elephant, lion, buffalo, black rhino, spotted hyena, leopard, a variety of antelope and zebra species, as well as the unique Addo flightless dung beetle, found almost exclusively in Addo. The Park can exclusively claim to be the only national park in the world to conserve the "Big 7" – the Big 5 as well as the southern right whale and great white shark off the Algoa Bay coast. Plans are currently afoot to include the proposed proclamation of a 120 000 ha Marine Protected Area which includes islands that are home to the world's largest breeding populations of Cape gannets and second largest breeding population of African penguins.

Visit their website for more information...

"South African National Parks and Addo Elephant National Park are proud to be associated with OLLI yet again. The tireless work the team does in fundraising and paying tribute to the role conservationists and rangers play in conserving our rhino is commendable and does not go unnoticed.
We wish him and his support team health and strength as they
take on this momentous expedition, and
look forward to welcoming them back home."
SANParks Regional General Manager (Frontier Region) – Dries Engelbrecht.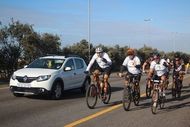 In February 2016 the first One Land Love It Expedition finished at the Addo Main Camp where the Olli Team was welcomed home after a 6000km cycle around SA. Wayne and his family are SANParks Honorary Rangers and Addo is the park they are affiliated to and privileged to spend time in during the year serving where needed.
Accordingly it was very special to arrive at the Matyholweni gate of Addo, the only SANParks on our route this year, to be greeted by Guy Padayachee (Senior Section Ranger) and Addo Rangers along with SANParks Honorary Rangers.
(Image above by Glen Meybergh of Imagio Productions)
"Bad things happen when good people do nothing.
This affects all of us, united in our efforts to protect
and conserve rhinos."
Anban Guy Padayachee - Senior Section Ranger
Leave a comment
Be the first person to comment.
Partners of the 'celebrating Women in conservation' campaign
environmental crime hotline 0800 205 005 or the SAPS number 10111
Report any suspicious activities around wildlife!
Using this site means you accept its
terms
| Copyright © 2022 One Land - Love It, South Africa
| website by