Twinkle was a 2016 Easter weekend rescue. She was found in the Satara area of the Kruger National Park after her mother was killed by poachers. She arrived at Care for Wild Rhino Sanctuary, stressed and terrified. She carried an old wound on her back that appears to have been inflicted by poachers. She was initially reluctant to drink milk because of her stress levels. It took some patience, but Twinkle eventually began to drink milk from a bottle. She has since grown well and no longer needs to drink milk from a bottle.

Twinkle was introduced to Don, Warren (a young rhino in need of special care that was sent to the sanctuary by his owners), Oz and LoFo. Lofo, who is now Twinkle's best friend, was rescued in the same area of Satara. They both have similar wounds on their backs. Lofo and Twinkle share an enclosure and sleeping quarters during the night. In the day, they spend their time grazing with the other rhinos in a large camp filled with various grasses and trees.

Twinkle is a very beautiful rhino with a sweet temperament, adored by all the rhinos and caretakers at Care for Wild Rhino Sanctuary.


TOGETHER THE FOLLOWING SCHOOLS HAVE ADOPTED TWINKLE ...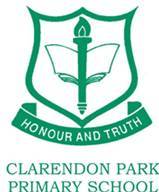 CLARENDON PARK PRIMARY SCHOOL
South Africa / Eastern Cape
Clarendon Park Primary prides itself on being a community school which promotes family values. We encourage our children to broaden their horizons and invite the parents to become involved in a partnership with the staff to help each child become a well-adjusted young individual.
We strive to be a centre of excellence in every sphere of education. More importantly we aim to be a place where all pupils are able to grow intellectually, physically emotionally and spiritually in a caring, nurturing and safe environment.


Last year our pupils collaborated with OLLI in the spirit of #jointcustody and raised R12 000 which went to Care for Wild Africa and towards anti-poaching equipment for the SANParks Rangers.
Using this site means you accept its
terms
| Copyright © 2017 One Land - Love It, South Africa
| website by