Twinkle was a 2016 Easter weekend rescue. She was found in the Satara area of the Kruger National Park after her mother was killed by poachers. She arrived at Care for Wild Rhino Sanctuary, stressed and terrified. She carried an old wound on her back that appears to have been inflicted by poachers. She was initially reluctant to drink milk because of her stress levels. It took some patience, but Twinkle eventually began to drink milk from a bottle. She has since grown well and no longer needs to drink milk from a bottle.

Twinkle was introduced to Don, Warren (a young rhino in need of special care that was sent to the sanctuary by his owners), Oz and LoFo. Lofo, who is now Twinkle's best friend, was rescued in the same area of Satara. They both have similar wounds on their backs. Lofo and Twinkle share an enclosure and sleeping quarters during the night. In the day, they spend their time grazing with the other rhinos in a large camp filled with various grasses and trees.

Twinkle is a very beautiful rhino with a sweet temperament, adored by all the rhinos and caretakers at Care for Wild Rhino Sanctuary.


TOGETHER THE FOLLOWING SCHOOLS support TWINKLE ...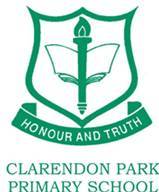 CLARENDON PARK PRIMARY SCHOOL
South Africa / Eastern Cape
Clarendon Park Primary prides itself on being a community school which promotes family values. We encourage our children to broaden their horizons and invite the parents to become involved in a partnership with the staff to help each child become a well-adjusted young individual.
We strive to be a centre of excellence in every sphere of education. More importantly we aim to be a place where all pupils are able to grow intellectually, physically emotionally and spiritually in a caring, nurturing and safe environment.


Since 2016 Clarendon pupils have been collaborating with OLLI in the spirit of #jointcustody and raised over R12 000 which went to Care for Wild Africa and towards anti-poaching equipment for the SANParks Rangers.
Grade 4 Brochures...
The Grade 4 pupils at Clarendon Park Primary had to create a brochure in English about the problem of rhino poaching in South Africa. Each of the teachers chose two brochures from their class and I have great pleasure in forwarding these to Olli. The boys and girls loved doing this project and now have an even bigger desire to help save the rhinos in our country.
"How wonderful to see the conviction of our youth!"
OLLI
GRADE 4 AND 5 LEARNERS
The Gr 5 pupils had so much fun learning about the rhino and build their artwork out of egg box mache on cardboard. They chose paper from old magazines and decorated the skin. Picking leaves from the garden they printed the background. Some pupils decided to rather paint the skin of the rhino instead of decorating with paper. Our gr 4's had to create a suitable habitat for their rhinos and had such fun using pastels to blend and mix colours. Both grades started by watching a video on saving rhino's. They thoroughly enjoyed the project and learnt a lot in the process.

grade 4 learners
where would a rhino be safe?
The children were asked to draw a picture of where they thought a rhino would be safe?
We used different media paint, pastel , collage etc.

"Out of the mouths of Babes... thought provoking..."
Olli
WHERE WOULD A RHINO BE SAFE?

Erin Bartlett
I think a rhino would be safe in a garden because it would be camouflaged, it can eat and be safe at the same time, it would be perfect.
Ella stone
I think a rhino would be safe in a garden because you can keep an eye on it.
Kathryn Van der Merwe
I think a rhino would be safe in space because the grey mixes with the black and there are no people to harm the rhinos.
Sophie Young
I think a rhino would be safe in a forest because there are a lot of places to hide.
Abigail McKowen
I think a rhino would be safe in a big forest full of trees with thick leaves because nobody would see through the big plants.
Courtney Collett
I think a rhino would be safe in my bedroom because nobody would know it is there.
Emily Hughes
I think my rhino will be safe in a garden because it seems like a safe place.
Emma Keil
I think my rhino would be safe on the moon because no one would know it is there, it would be out of the reach of guns.
Wyatt Ludick
My rhino will be safe amongst all the flowers.
Erin Wilson
I think my rhino will be safe in an abandoned arcade because on one goes there anymore.
Cate Marshall
I think my rhino will be safe in a cupboard in my bedroom, no one will suspect it to be there.

clarendon and olli partnering again
At the OLLI Frontier Rhino Ride Homecoming on World Rhino Day, Amy Bresler represented Clarendon at the Donkin where she handed the Nelson Mandela Bay Executive Mayor, Athol Trollip, a copy of her brochure. Children from various schools collaborating in our challenge - The Olli #JointCustody School Rhino Challenge - handed Mayor Trollip representations of ways in which they had expressed their views on conservation in particular our rhino.
Money raised goes to our beneficiary Care for Wild Africa - Twinkle is one of the orphaned rhino calves at the sanctuary who will benefit directly from any donations. But the Olli Team is extremely excited by the way in which our youth are using their talents and resources, where they are placed, to make a difference for the future of this iconic species for the youth of the future! The quality of the work that has come from Clarendon is exceptional and we are extremely proud to be able to use this platform to give the children an opportunity to speak out!
BRAESIDE SCHOOL
Calgary Alberta | Canada
Braeside School is located in Calgary Alberta, Canada and is a part of the Calgary Public School Board. Braeside lives by the quote, "Be The Best We Can Be!" Always thinking about how we can be the best people that we can be, Mrs. Rigo and Miss Yanko's Grade 3 & 4 classroom challenged themselves to think about our world, and what we can do to make a difference on a global level.
After speaking to Ranger Wayne Bolton, founder of One Land Love It NPC, via Zoom, the students were very shocked and sad to hear about the problem South Africa was having with rhino poaching. However, they were very happy to know that there were people like Wayne and his family who were doing everything that they can to stop poaching and support the orphaned rhinos and their orphanages.
Inspired by this, the students from Braeside Elementary grade 3 & 4 classroom decided they wanted to raise money to support orphan rhino Twinkle.

"It made us so sad to learn about the rhino poaching problem that is happening in Africa right now. It was so cool that Ranger Wayne called our classroom and told us all about South Africa and the rhinos. It really inspired us to make a difference in the world and do what we can to raise awareness and protect the rhinos. We are so excited to adopt Twinkle and support such an amazing operation."
– Rigo's Grade 3 / 4 Class Braeside School.
Partners of the 'celebrating Women in conservation' campaign
environmental crime hotline 0800 205 005 or the SAPS number 10111
Report any suspicious activities around wildlife!
Using this site means you accept its
terms
| Copyright © 2022 One Land - Love It, South Africa
| website by