Tana arrived at Care for Wild on the 15th March 2014. She was about 2 months old on arrival, weighed about 140 kg, and was in shock. After her mom was poached, Tana was found wandering the wilderness. A vet was called to dart her but the vet's equipment and vehicle was stolen so a cattle vet was called instead. The cattle vet fired a dart but missed and had no more tranquilizers. With no chemicals left, Tana was run down on foot and tackled in order to be put into a crate for transportation. When she arrived, Care for Wild put her on drips and she was placed on foal replacement milk (Denkavit). A week later she developed diarrhea. Care for Wild took samples of her defecation and sent it to a lab. It was found that she had a strain of bad bacteria in her gut, for which she received treatment. She recovered well and began her journey of rehabilitation. Often when a baby rhino is rescued, they are in shock, very stressed and dehydrated. The stress has a big influence on the flora in the gut of the rhino which often leads to diarrhea. From experience, preventative measures, such as providing specialized ulcer medication, have been put in place to protect the tummies of new baby rhinos arriving at Care for Wild in order to improve their wellbeing and give them a fighting chance of survival.

Tana was bottle fed 2 litres of milk seven times in 24 hours every day for 8 months. Thereafter, her feeding frequency decreased over time as she grew while still maintaining the correct amount of fluid intake per day according to her weight. At the same time she was provided with solid food (grass). The baby rhinos drink 2-3 % of their body weight in fluids. She was introduced to other orphaned rhinos a few weeks after her arrival.

Tana has since grown immensely, and as of the 25th August 2016, has been completely weaned off of her milk. Rhinos are usually weaned at 18 months but due to the harsh, dry winter, Care for Wild kept the rhinos on milk until the weather improved. She weighs over 600 kg at the age of 3 years old. She has bonded closely with two other orphans, Wyntir and Mabush. This close bond helps in their rehabilitation process and future release. Interacting with others of their species is a vital part of the rehabilitation and release program at Care for Wild.

In the morning the team at Care for Wild Rhino Sanctuary lets Tana out to graze in the camp from 08:30-15:30 with Wyntir and Mabush as well as 3 other orphans of a similar age. Since being let out into the fields to graze, the rhinos have limited human interaction; only when they are brought in and out of the bomas. The limited human contact is another vital component of the rhinos' rehabilitation and release program. There is a guard watching over the rhinos at all times, day and night, 24/7. The rhinos usually take a nap between 10am and noon in the shade. They get supplemented dry feeds in the afternoon when they return to their enclosure due to the dry harsh winter when the nutritional value of the grass in the field is low. Their water is also treated with Game-Min which consists of vitamins, minerals and essential amino acids. The dry feeds they receive are Lucerne hay, Eragrostis teff hay, as well as specially formulated Rhino pellets. They each eat about 10 kg of food a day. The rhinos also have teff bales available in their day camps. With the seasonal changes taking place now, Care for Wild Rhino Sanctuary is monitoring the rhinos closely as changes in diet can cause an upset stomach. At night, the rhinos sleep together in their groups in night pens. Hay is used as bedding for the rhinos to have a soft, warm and comfortable place to sleep.

TOGETHER THE FOLLOWING SCHOOLS support TANA ...
durban preparatory high school
Durban / KwaZulu Natal
Durban Prep is a school steeped in tradition, with impressive facilities and the best Educators who provide top-quality education.
There is always a buzz – things happening - because the school has so much to offer. You can sense the passion. Amongst all of this are high levels of support from all connected to the school. There is a terrific sense of pride. And much emphasis on fair discipline.

Taking the example of the Educators, the well-mannered boys learn leadership and develop high levels of integrity, in an environment
which provides a down-to-earth yet highly professional approach to education - in perfect balance; sport and sportsmanship; academics; culture, and a cross-cultural understanding and acceptance, where anyone is welcome.

This school is not for the faint-hearted however. It is progressive and fresh, and very challenging, and one can only feel privileged to be a part of it. And in no other way is this better demonstrated by the legendary Grade 7's last bell on their final day at Prep, after which of course, better fortune follows.

OUR MISSION...

To provide a unique, balanced education and fulfilling experience within a nurturing environment, founded on the school's guiding principles of integrity and respect for self and others.

SMALL BEGINNINGS...
Boys participating fully in 'The Prep Experience' leave the School thoroughly prepared for the challenges of the future as strong contributors to society.


"From small beginnings better fortune follows..."


The OLLI Family is particularly excited to have DPHS on board since Daniel Bolton is a DPHS PREP Old Boy having completed his schooling at DPHS before moving to the Eastern Cape where he attended Grey High School. We believe that education is imperative in moulding our young children and teenagers into responsible citizens and value the input made by the educators and institutions that our children were privileged to attend. Our children should be encouraged to believe in themselves and the motto above resonates with the OLLI goals and Daniel was exposed to that message from Reception Unit to Grade 7.
DPHS COLLABORATES WITH OLLI AND JOHN SMIT
Olli Frontier Rhino Ride Auction
DPHS Art Teacher, the talented Brenda Thatcher, generously donated a framed print of one of her sketches to be auctioned at the Olli Frontier Rhino Ride Breakfast where John Smit was the guest speaker and an auction was held to raise funds for Care for Wild Africa where all the rhino calves represented in the School Rhino Challenge are taken care of. Through this generous donation funds were raised that have been donated directly to Care for Wild Africa.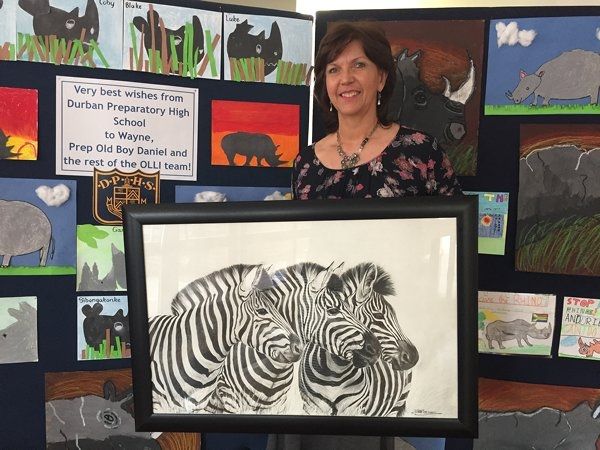 olli visits dphs
In August the OLLI Team visited DPHS and shared the OLLI story
Partners of the 'celebrating Women in conservation' campaign
environmental crime hotline 0800 205 005 or the SAPS number 10111
Report any suspicious activities around wildlife!
Using this site means you accept its
terms
| Copyright © 2022 One Land - Love It, South Africa
| website by