Frontier rhino ride route
Indicating Waynes route through the Eastern Cape and Kwa-Zulu Natal
connecting 20 of the provinces best Game reserves...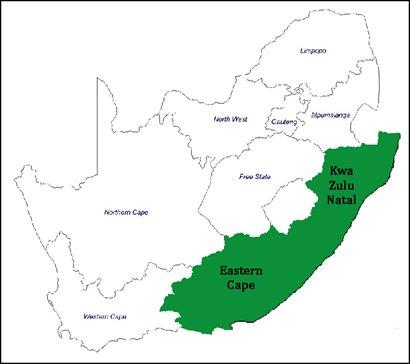 The reserves included in the route
We look forward to revealing the selected reserves shortly.
The poaching scourge has spread to a new frontier which includes the Eastern Cape and KZN as pressure has been placed on poachers in Kruger. For this reason, we are pleased to announce the launch of the OLLI FRONTIER RHINO RIDE to take place in July 2017. By bicycle,Wayne will join approximately 20 of the top reserves in the EC and KZN from Nelson Mandela Bay to near the Mozambique Border, paying tribute to the role they are playing in conserving our rhino.

Our beneficiary
Care for Wild Africa - Rhino Orphanage
#OLLI Frontier Rhino Ride will raise funds for a Rhino Orphanage called Care for Wild Africa - you can visit their website at www.careforwild.co.za. Amongst other things Care for Wild Africa is doing an absoultely amazing job of rehabilitating our baby rhino calves, who have lost their mothers to poachers, are traumatized and in need of specialised care.
FUNDRAISING
We cannot afford to do nothing...
Extinction cannot be our legacy!

In 2017 along with our partners, the OLLI Family aims to raise R1 million for Care for Wild Africa!
LEAVE A LEGACY
Purchase Your OLLI Footprint...
And make Your contribution to our conservation landscape!
You can purchase an "OLLI Footprint" represented with your name and placed on "OLLI The Rhino" who will be towed behind our support vehicle. Funds raised go to Care for Wild Africa...
R300 for and individual / family footprint (2000 footprints for sale)
R1000 for a larger print for institutions (corporates, schools or groups) (400 footprints for sale)
Follow this link to make a difference Donate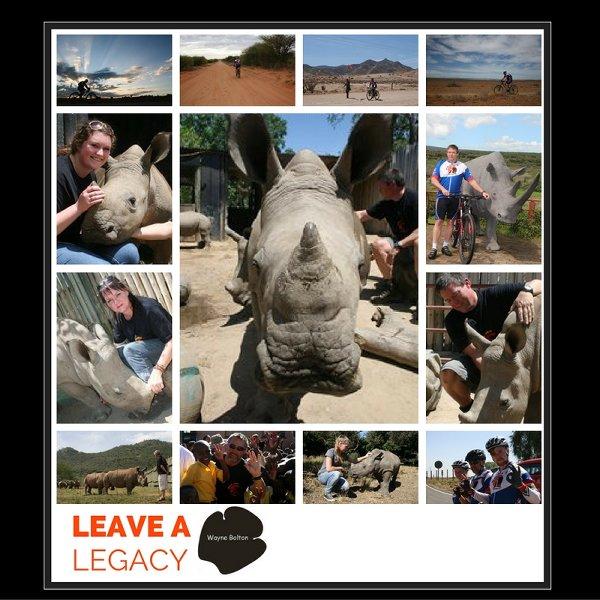 olli schools
#JointCustody School Campaign
We are very excited about our #JointCustody School Campaign which will run in the second term just in time for Wayne's cycle.
We have selected 20 rhino calves from Care for Wild Africa – babies orphaned by the brutal poaching of their mothers. In the spirit of #JointCustody we aim to partner schools in SA and overseas as they work together to raise funds for "their calf".
We want our children to work together collaboratively, as a team … this generation working together for future generations. In this case we will be supporting a credible organisation focused on rehabilitating and protecting a young rhino population.

How it works…

We will team your school with other schools (preferably in another province/country)
We suggest raising funds in the second term for your calf / Care for Wild Africa
We will send you a video clip to motivate and inform the pupils
We will provide information / history on your rhino calf

You can determine how to raise the funds, how to collaborate with your "partner schools" and the period allocated in which to do so but we will aim to tally the monies raised before Wayne starts his cycle in July. While we were on our previous expedition Clarendon Primary School in PE raised R12 000 in 2 weeks. We were so encouraged by their commitment and desire to make a difference to our conservation landscape.

We should never underestimate the conviction and potential of our youth and we want to give them an opportunity to demonstrate this. There is something profound in having our children working together to give these rhino calves a future and making sure that their own children get the privilege of seeing a rhino in the wild.

We cannot afford to do nothing – extinction cannot be our legacy!

To find out more about the OLLI School Campaign contact Nikki Bolton - nikki@oneland.co.za
And follow our progress on School Campaign
Using this site means you accept its
terms
| Copyright © 2017 One Land - Love It, South Africa
| website by